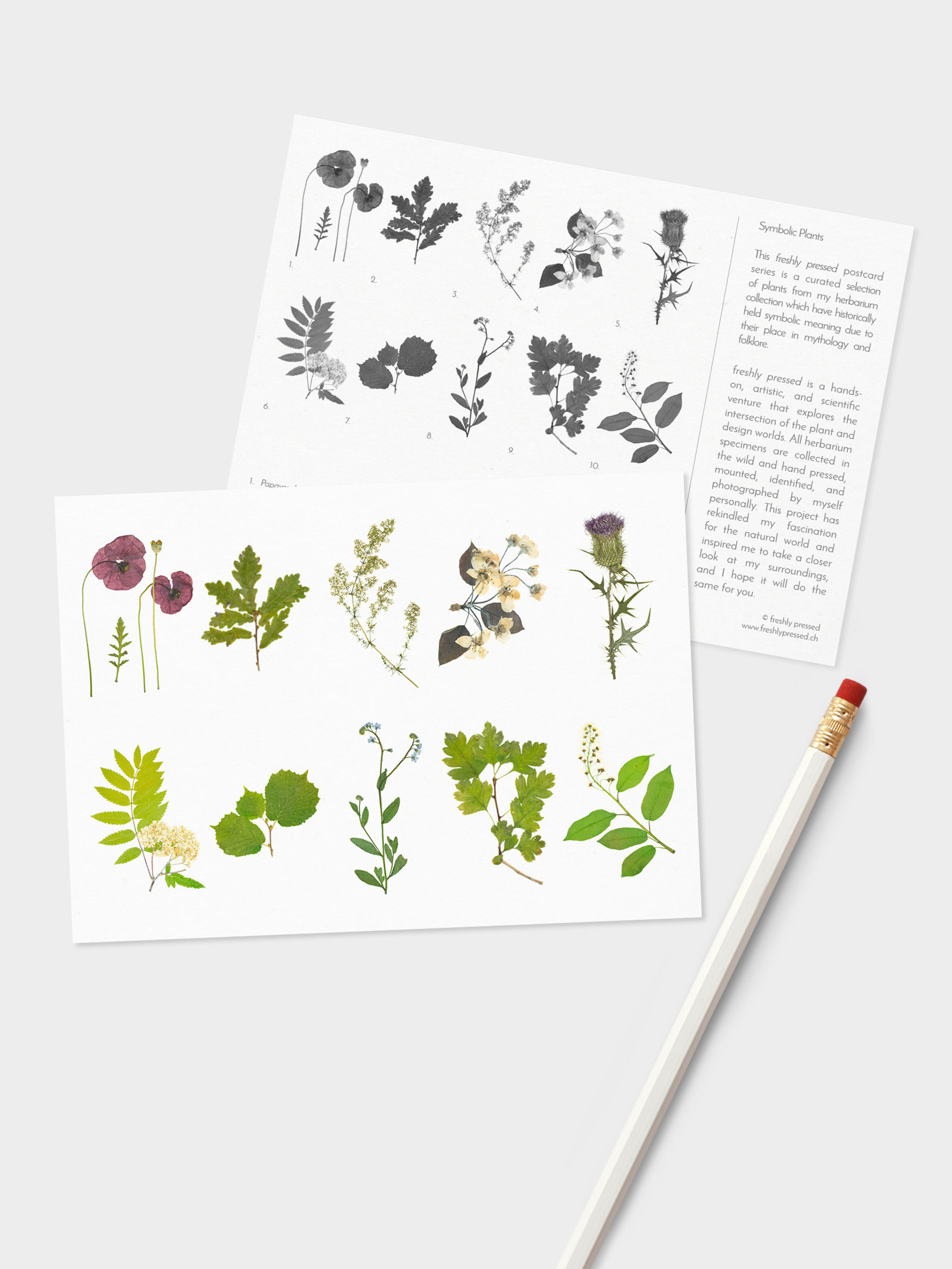 Symbolic postcard set
The freshly pressed 'Symbolic' postcard series is a curated selection of plants from my herbarium collection which have historically held symbolic meaning due to their place in mythology and folklore.
Size: A6 (10.5 x 14.8 cm; 4.1 x 5.8 inches), 10 portrait-orientated species postcards, 1 landscape-oriented key card; 11 postcards total.
Material: Double-sided matte photo paper, 305 g/m2 weight
Features high-resolution photographs of pressed herbarium specimens. All herbarium specimens are collected in the wild and hand pressed, mounted, identified, and photographed by myself personally. The 'Symbolic' postcard set includes a postcard featuring each of the following plant species:
Cirsium vulgare / Bull Thistle
Corylus avellana / Common Hazel
Crataegus rhipidophylla / Midland Hawthorn
Galium verum / Lady's Bedstraw
Malus pumila / Orchard Apple
Myosotis scorpiodes / True Forget-Me-Not
Papaver rhoeas / Field Poppy
Prunus spinose / Blackthorn
Quercus robur / English Oak
Sorbus aucuparia / Mountain Ash
Ships worldwide from the U.S.; will arrive in a padded A5 sized envelope. Shipments within the US will arrive 1-3 days after order; allow 7-21 days after order for arrivals to Europe and the rest of the world. Quotes for expedited shipping are available upon request.
Note: All pricing is given in US Dollars (USD). For a quick conversion of pricing to your local currency for reference, visit the XE website.